Your brand and your business go hand-in-hand. Your million dollar business idea will only go so far if you don't have a brand that communicates to your customers what your business is all about, and a brand that isn't backed by a solid business fails to make those vital connections with customers. However, oftentimes people focus so much on the business side of things, they forget that their brand is just as important for attracting new customers and maintaining current ones. This article will discuss how having a strong and cohesive brand can help boost your business and reach your company goals.
We'll go over:
What a cohesive brand looks like and some key elements
How you can build a strong brand utilizing these elements
How having a cohesive brand can boost your business
---
What is a cohesive brand?
A cohesive brand is much more than just a logo. While having a visual mark to identify your company is important, other elements such as color, typography, and voice influence the connection you create with your customers, and how they perceive your brand.
Take for example the advertisement below from Coca-Cola. The Coca-Cola logo is an easily recognizable and iconic mark, but what other features in this ad let you know it's for Coca-Cola and not another generic soda company?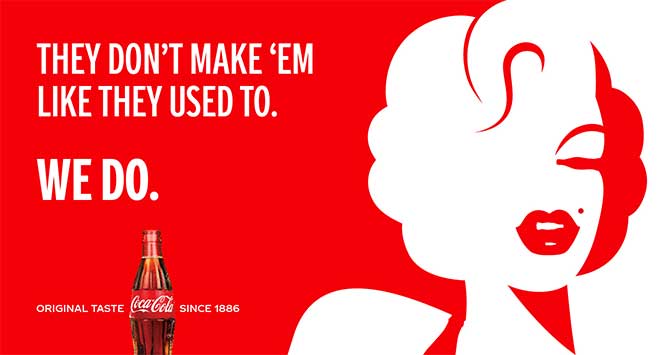 Some features that stand out are:
Colors: The bright red background and white details are characteristic colors of the company, and can be found in all of their messaging across platforms
Voice/Tone: A consistent message of happiness and nostalgia is present in Coca-Cola's branding and creates an emotional connection with consumers
Imagery: In this case, the simple design aligns with the classic style in their logo, creating a sense of nostalgia for the good ole days
Fonts: Because their logo is so classic, Coca-Cola sticks to a simple sans-serif font that works well with the script logo
All of these elements work together to create an ad that, even without the logo or product, could easily be recognizable as a Coca-Cola promotion. This immediate brand recognition and association is the power of a cohesive brand. According to a Harvard professor, the majority of our decision making is done subconsciously and based off of emotion, meaning our purchases are influenced by feeling rather than the actual product. Having visual consistency amongst all your business' materials creates trust and confidence in your company, which is key to targeting the emotions ultimately responsible for making the decision to choose your business over a competitor's. 

---
How can you build a strong brand?
A brand represents all the intangible aspects of your company, and is often the deciding factor between your company and a competitor. In order to create a brand that attracts customers and builds a lasting connection, it's important to think about all the visual elements of your brand. Like in the example above, there are many more features besides a logo that define who you are as a company and what your brand is. The most important elements to focus on are:
Mission/Message: Before you can build a brand you need to figure out who you are as a company, including core values and your mission. It's also important to think about your target audience and what messaging would be attractive to them.
Voice/Tone: Figuring out the tone of your brand will depend largely on your message. It's important to take into consideration your industry and your target audience in order to create a voice that is trustworthy and relevant to your audience. 
Logo: A logo is an important part of your brand, and it should serve as a visual representation of your company. This means the design of your logo should reflect your industry, your core values, and your target customers. 
Colors: Color is one of the most dominating features of a brand, and therefore should be carefully chosen. It's a good idea to limit your color palette to three colors and follow the 60-30-10 rule when using them.
Fonts: Similar to color, you want to limit the number of fonts you use and choose them carefully. Picking a couple of fonts that complement each other well, can serve as either headings or paragraphs, and won't seem outdated in a few years is crucial to creating a visually balanced brand.
Photography/Imagery: The tone of your photography or other imagery should match the tone of your company. This includes everything from the content of the picture to the way that it's edited, so that your imagery creates an appropriate emotional connection with your customers. 
Consistency: As mentioned earlier, consistency is KEY to building a strong brand. All of the above elements should be consistent across all platforms and messaging, so that anywhere your customer sees your brand they can immediately recognize it. 
The easiest way to make sure that all of these elements are thought out and consistent, is to create a set of brand guidelines. This is a booklet or PDF that defines each of the above elements for your company and provides rules about how to or not to use them. If there is ever a question whether something is "on-brand", you can easily reference the brand guidelines to determine the best course of action to maintain consistency for your brand.
---
How your brand can boost your business
Having a cohesive brand tells your customers that you care about your business—and that they should too. Putting in the time and effort to develop not just a great logo, but all the other elements of a strong brand shows a level of commitment that potential customers will recognize. It also creates brand recognition—something that plays a huge role in buying decisions for consumers. Being consistent with your branding across all platforms increases the chance that users will develop a connection with your company, making them more likely to choose you over a competitor.
Having a cohesive brand also makes it easier to develop content and promotions for your company. With a limited color palette, defined fonts, and a specific photography style, you can spend less time worrying about the visual details and more time on getting your content out there. Although it might seem overwhelming, developing a strong brand is well worth the time and resources. It will improve your brand's recognition and trustworthiness, simplify content creation, and boost your brand to the next level.